Category Archives:
脈衝光/彩光
I was grateful to be invited to participate in the annual company training of VIORA machine manufacturer from Israel. The meeting was held at lovely 'Movenpick Resort' in Phuket, Thailand on May 26 ~ 28, 2016.
It was my first time to join VIORA company event and I had prepared a 30 minutes keynote presentation to share with colleagues about design concept, applications and unique features of the latest innovations of multi-technology platform series, e.g. V10 V20 and V30 with interchangeable hand pieces for skin tightening, fractional RF resurfacing with SVC (Switching-Vacuum-Cooling), long pulse 1064nm Nd:YAG laser with PCR (PulseConfiguRythm™ Control), Intense Pulse lights with PCR (PulseConfiguRythm™ Control), e.g. V-ST, V-FR, V-Nd:YAG, V-IPL and the latest developed and my new favorite for non-invasive body contouring (BC) and skin tightening V-FORM hand pieces (HP) with Multi-CORE and ABS (Anti-burn system).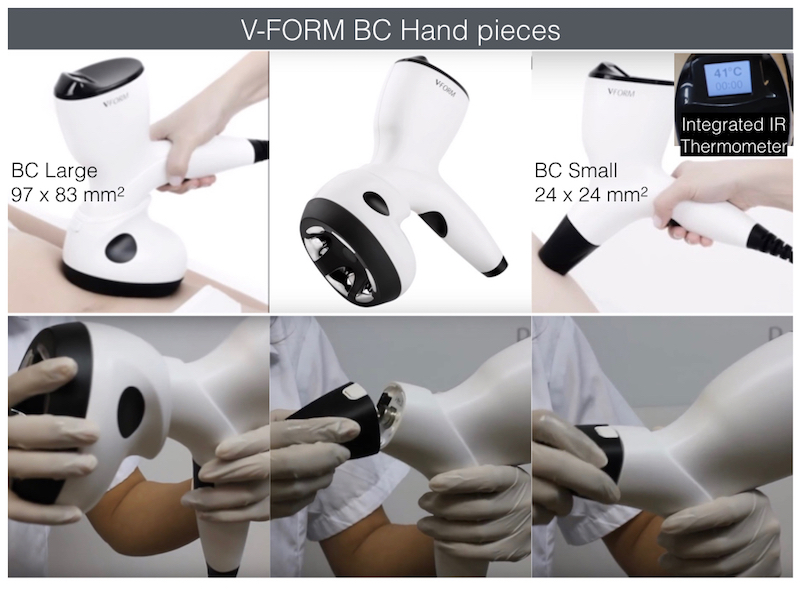 V-FORM BC HP can be connected to large and small size of tips for treatment. Apart from a very unique appearance of hard ware design, the large size V-FORM BC HP has very large area coverage 97×83 mm2. The new Multi-CORE system and Anti-burn system allow RF energy to penetrate deeply and produce large volume of homogeneous warming inside subcutaneous fat layer at 3 cm from skin surface without causing epidermal injury and patient's discomfort. Total treatment time of whole abdomen of average size Chinese can be as short as 20 minutes. It is very suitable as lunch time procedure.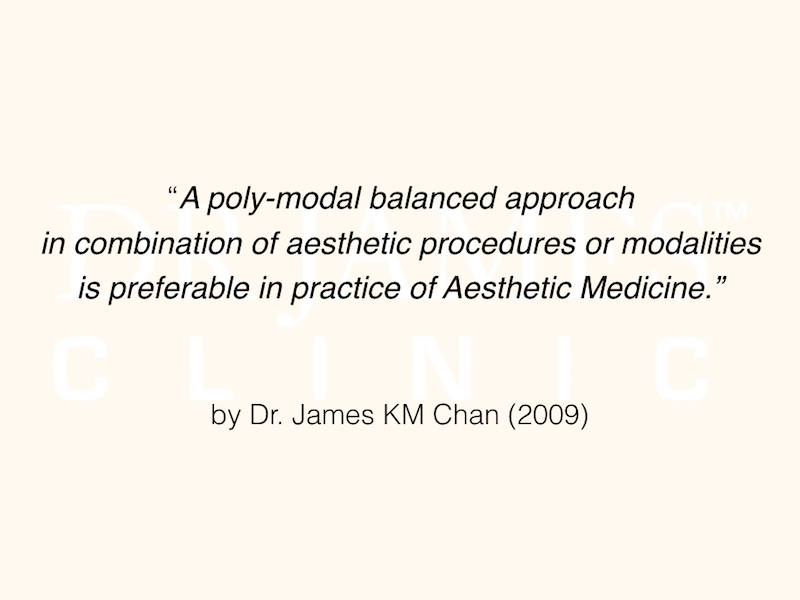 I first presented the concept of application of 'a poly-modal balanced approach' on aesthetic medicine in 2009. At that time, most of aesthetic treatments are based on a single modality. For example, IPL or 800nm Diode laser for hair removal, fractional non-ablative laser resurfacing for skin rejuvenation. A stand alone machine can provide treatment for a few indications. Combination of different machine treatments or modalities was not common.
There were another type of machines called all-in-one machines. A machine with a few applicators or modules combining together as a unit. More treatment can be provided. However, mostly the size of all-in- one machine was big and its hard ware was not up-gradable. If there was malfunctioning of a module, the whole machine should be sent for repair.
Therefore I purposed a new concept of machine design, multi-technology platforms based on 'the concept of poly-modal balanced approach' It was my dream for many years. All applicators can be plugged in and interchangeable for usage.
It is difficult to rely on a single treatment modality to treat a diseased or ageing skin condition in all patients with all skin color types.
As a result, a well designed complete aesthetic platform should consist of multiple modalities to successfully manage any skin conditions within an individual and patients with different skin color I to VI. Therefore, patients can be treated in a rational, ethical and cost-effective way and not subjected to unnecessary side effects of treatments or prolonged treatment duration.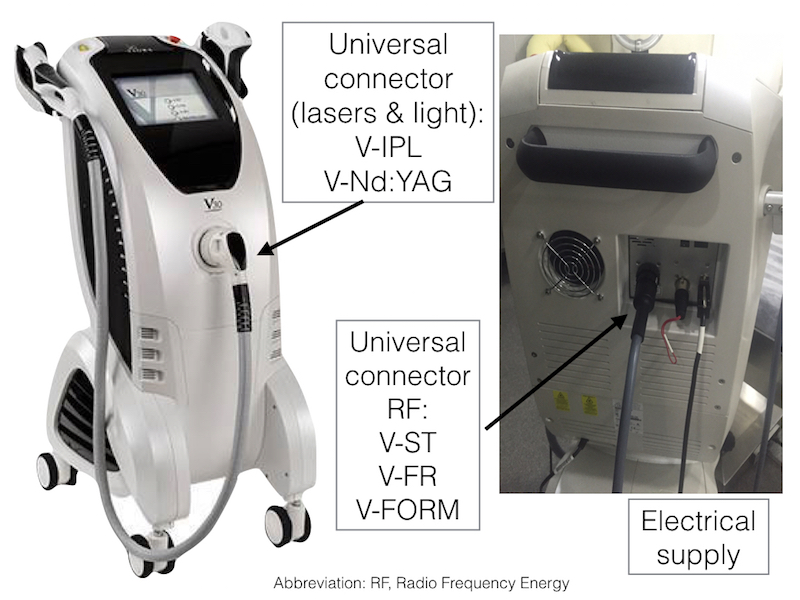 An aesthetic multi-technology platform works as a central unit of energy supply.
For example, it should provide various kinds of energies such as radio frequency energy, lasers and light energy.
All radio frequency energy dependent (RF-dependent) hand pieces (HPs) or applicators are connected to the universal RF connector of the platform. Same as lasers and IPL HPs which are plugged into Laser energy universal connector or IPL connector, respectively.
Newly developed application HPs can be easily add-on to the platform via same universal connectors.
Therefore, multi-technology platform is up-gradable in both hard wares and softwares, functionally expandable and more economical in space and money.
V-series (V10, V20 & V30) Platforms by VIORA are examples of multi-technology platforms.
For example: Unwanted hair removal
Both Nd:YAG 1064nm lasers and IPL with 570nm and 630nm filter are applied
Hand pieces: V-Nd:YAG laser HP and V-IPL HP. Both of them have PulseConfigRythm system which can make the light or laser pulse as single pulse, a train of multiple sub-pulses or rapid pulses of low fluence. More time for heat dispersion is suitable to darker skin type. In addition to very effective water cooling system to keep the glass tip of both V-IPL and V-Nd:YAG HP at 5C, pain, risk of epidermal thermal injury and post-inflammation hyper-pigmentation are minimized.
V-IPL 570nm for average hair on lighter skin
V-IPL 630nm for hair on darker skin type
V-Nd:YAG 1064nm laser for dark hair with hair follicles inside deep dermal region
Modalities are enough to remove unwanted hair thin to thick, sparse to dense, and different skin color type I to VI.
By means of a Multi-technology Platform V30 by VIORA, multiple skin conditions can be managed.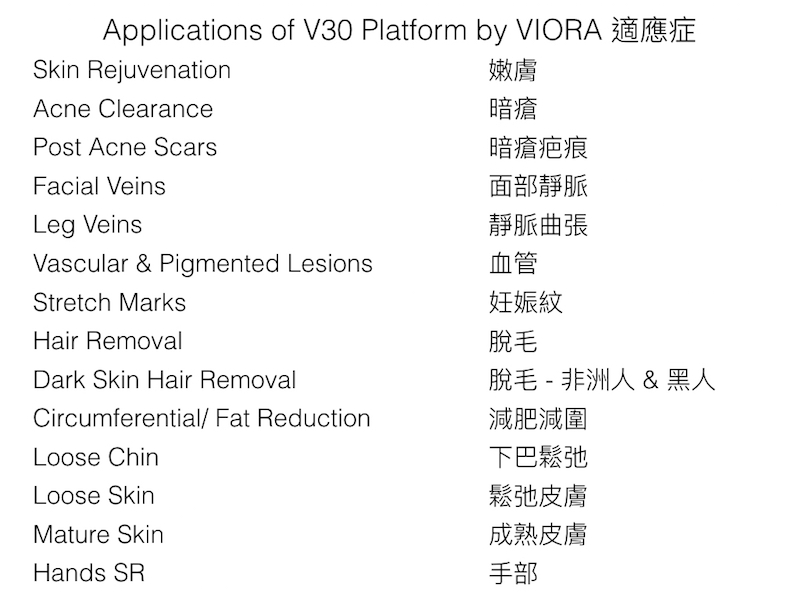 8th Anniversary is coming.